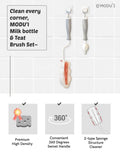 WASHING TOOLS
Bottle Brush and Teat Brush as a set! 
If you have ever felt that your wrist hurts from washing too many bottles, MODU'I's washing tools will come in very handy! Featuring a rotating handle, simply swivel and let MODUI's washing brush do its work. Made of a two-type sponge structure and premium high density sponge, the washing brush foams with minimal soap, promising cost savings for families as well.
Rinse and dry it well after use so it can last longer!
---


It is a high-density sponge with small and fine pores, which makes it durable and very smooth. It cause less scratches when washing baby bottles, straw cups, thermos, etc. and can be cleaned more hygienically.








A premium high-density sponge.
Even with a small amount of detergent, it emits rich foam and is easier to clean.
The large handle with excellent grip allows convenient use for both men and women of all ages, and there is no need to apply excessive force when washing. The 360-degree rotating handle minimizes strain on the wrist.
It can be stored and dried hygienically after use with a hole at the end!

Product: Milk Bottle Brush 2p Set
Colour: Grey 
Milk Bottle Brush Size: 32cm
Teat Brush Size: 17cm
Wash the Teat while slowly turning the handle of the Straw Cleaning Brush and roll your brush inwards~


Product - Straw Cleaning
Brush Colours - Grey
Total length 25cm

For the insides of the straw that is hard to clean, for the small entrance of the long weighted straw, clean it easily with no problems.


Before purchasing, please take note of these few points.
During the manufacturing process, these are all natural phenomena and are thus not allowed as reasons for exchange or refunds.
1. When the silicon is placed in the mould during the compression, some vague lines are created and they remained on the container.
2. There may be instances where there are 1 to 2 dots, where the colour is not spread well across the container during the production of the product. They will not drop off and are not harmful to the human body so be assured that the product is still safe for use.
3. During the production process, there may be scratches or marks created. Although we do conduct quality checks, if it is severe, please contact us for an exchange/refund.
Copyright © 2017-2021 ToppingsKids.com
All
contents
cannot be copied without permission.
SHOP WITH CONFIDENCE
Thank you for shopping with ToppingsKids! Your satisfaction is always top of our mind and we're committed to providing you with a delightful shopping experience. Every brand and product we introduce you is well-known, popular and quality guaranteed in Korea. Hope you enjoy parenting with our collections as much as we do. We also do our best to provide a dedicated Customer Experience to help you with all of your shopping needs. Please drop us an email if you need our assistance. Email: help@toppingskids.com
SHIPPING
*For Self Collection orders, collection will have to be done within the next 3 weeks at our official opening hours: Monday - Friday, 10am - 5pm. Avoiding lunch time from 1pm - 2.30pm. If you are unable to pick up your parcel within the next 3 weeks, a $4.50 charge will be incurred for us to ship your parcel to you.  
We provide free shipping for domestic orders over SGD $100. All orders are sent via trackable mail or courier. We aim to dispatch your items within 3 working days of receiving an order (Monday through Friday excluding weekends and public holidays), hence you should receive your items within 3 to 5 working days (also excluding weekends and public holidays). Delivery charge is S$4.50 flat rate for orders below S$100. Please ensure that a representative is available at the stipulated delivery address during working hours to sign for your package. If there is no one at home when the delivery man arrives, he will contact you to reschedule the delivery date. 
If you require split shipping, please take note that an additional S$4.50 charge will be incurred to arrange for a separate delivery. This additional charge applies to orders both below and above S$100.
*For preorders, please check the terms and conditions below or check the delivery schedule by clicking here. During the COVID-19 period, there are a lot of uncertainties with regards to our delivery services. Please note that there may be slight delays in delivery.
EXCHANGE POLICY
Exchange is only available with the same item when goods are damaged or faulty due to our mistake.

Do drop us an email at help@toppingskids.com with your order number and item exchange information within 7 days for Singapore customers and 14 days for overseas customers from the day you receive your shipment. Kindly check your shipment once you receive it immediately or within the 7 days period, As we will not be held responsible for the faulty goods after 7 days.

We're not providing an exchange service if you change your mind. To be eligible for an exchange, the items must be received in new, unwashed, and unworn condition with all tags attached, in original packaging.

For Momsboard, the original box must be kept and used for the exchange. Used merchandise will not be accepted for exchange. No delivery fee will be charged as we caused any inconvenience to our precious customers!

Alternatively, do fill in this form for any return/exchange cases for processing here.
We seek your understanding of this policy.
PRICING
At ToppingsKids, all products are listed in Singapore Dollar (SGD) and excluded delivery costs. We reserve the right to change pricing or run promotion at our discretion and without notice.
PAYMENT
We accept Visa and Mastercard via Paypal's secure transaction platform.
PRE-ORDER
If your item or order is a PREORDER (i.e. backorder), it will be shipped out on the designated shipping date listed in the product details. You can also choose to check the delivery schedule here. If the delivery date is indicated with estimation, we will reach out ot you individually to inform the period when the delivery date is confirmed. If your PREORDER contains items with different shipping dates, your order will be shipped out on the date that the last item is available for shipment. If your PREORDER contains extra items (non-PREORDER), everything will be shipped out together when your PREORDER items are available for shipping.

* Note, if you wish for your in-stock items to be shipped immediately, please place a separate order for in-stock items only. As the shipping amount you are charged during check out is based on a single package, you will need to place separate orders for the in-stock items to be shipped out earlier than your PREORDER items.
ORDER CONFIRMATION
Once you have placed an order via our website you will immediately receive a confirmation email. This is automatically generated. For all orders that are returned due to an incorrect address, a fee will be imposed for repacking and postage.
PRIVACY
Our privacy is important for us too! Any personal information that you provide is strictly confidential and will only be used to process your order. We will not disclose your information to third parties.
CONTACT US
If you have any questions about this Privacy Policy, the practices of this site, or your dealings with this site, please contact us at: help@toppingskids.com
To be advised separately on Instagram. Thank you! :)
Cute cup for toddlers
Love the design of the cup! My toddler loves it. It's weighted enough so that it wont topple over easily.
Thank you for your love and support towards our MODUI Bear cup! Yes, it has a sturdy weight even though is it made from silicon!