A Peek into Our Play Spaces at Home! - Alnog the walkway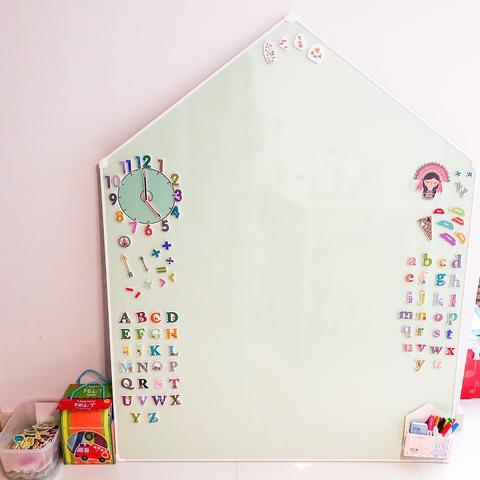 ALONG THE WALKWAY
In the guide under
"Chapter 6: Tips for Small Apartments"
, I called out vertical spaces as one of the potential areas to incorporate play and learning. You can get a whiteboard or chalkboard or lean an easel stand against the walls. In our case, we went with the whiteboard (L size, mint color) from Momsboard (
https://toppingskids.com
).
This is placed along the walkway from our living room to the bedrooms. It's shown leaning against the wall here, but we eventually mounted it on the wall using strong industrial-standard 3M velcro tapes.
I love this whiteboard for so many reasons!
You can use colored markers on the whiteboard, so that really allows the child to express creativity in multitude of colors. 
Yes you can do the same with colored chalks on a chalkboard. But a whiteboard is so much cleaner, easier to clean and fuss-free.
The whiteboard we got is magnetic as well, so we can really play around with magnets to incorporate play and learning. Think magnetic people or animals or vehicles to carry out pretend play.
It's huge and sturdy, we secured it to the wall with strong 3M velcro tapes which are industrial-standard and meant to hold up the weight of our whiteboard. Yes, no drilling required!
I share some different ways to incorporate play and learning into the whiteboard below.
In the above picture, we're doing sight words, or word recognition if you may.
This scene was created out of T's imagination, with the help of his dad. We used these magnets to create a scene of our family going to the zoo to visit the different kinds of animals there. This is pretend play at its best, I love it!
I set up the above simple activity literally in seconds. We were learning about uppercase and lowercase alphabets here. I bought the set of uppercase and lowercase alphabets from momsboard as well.
And my favorite (newly discovered) activity - using our Magnatiles to create puzzles!
We've gotten so much great mileage on this whiteboard, I couldn't believe I hadn't thought of investing in a good whiteboard sooner than this.
That's T and his playmates doodling away on the whiteboard, it's a hot favorite for them to play with too! 
A magnetic whiteboard is truly versatile - the number of ways to incorporate play and learning is endless! I've also shared some of these ways on my instagram (@popsicles_play), so do check it out!
* article from @POPSICLESANDPLAY
click here
for to read full content