ToppingsKids 4th Anniversary with Children's Wishing Well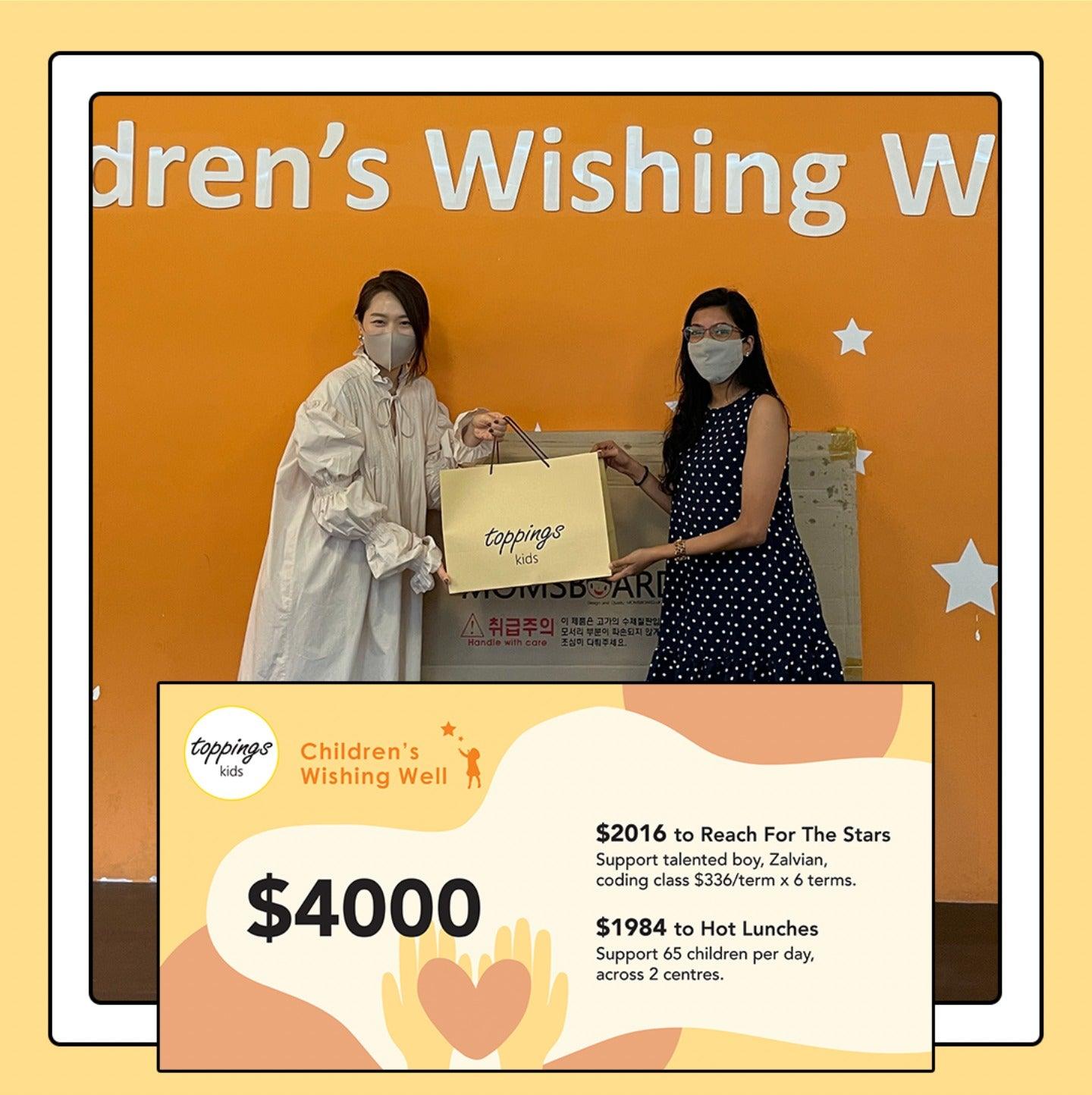 Celebrating our 4th anniversary, we wanted to do something more meaningful and fruitful this time round and decided to donate $4000 to a charity programme.
We believe that our mission in ToppingsKids is to help our fellow mummies to provide their little ones with the best childhood and beautiful memories. With this, we want to extend the love to other children in need and to experience similar benefits as well.
Therefore, we are really happy to have found an organisation called Children's Wishing Well that is in line with our values and is actively helping children in need in our community.
We have requested specific areas that we want to support with our monetary donation, and thankfully the friendly organisers helped us arrange it. Thank you!
💫 𝙍𝙚𝙖𝙘𝙝 𝙛𝙤𝙧 𝙩𝙝𝙚 𝙨𝙩𝙖𝙧𝙨
We are pleased to help this young talented boy who is absolutely tech savvy and has strong interest in coding. With his story and teacher's strong trust, we believe the classes would enable him to shine even brighter in the future. *Supporting Coding course fee: $336/term (6 terms, 12month) = $2016

🫕 𝙃𝙤𝙩 𝙡𝙪𝙣𝙘𝙝𝙚𝙨
Providing Home-cooked meals to the 65 children per day across 2 centres is one of the programs that they are running. We are happy to support 400 meals with the remaining $1984!!
Perhaps it's not a huge amount, but we believe that this small seed will eventually grow well and bear fruits in the near future; and we will do our best to plant more and more seeds in the coming years.
We made a trip down to Children's Wishing Well at Clementi, and had a little tour in their homely centre. 
As a little gift, we brought along Jeje House and Jeje Square Momsboards for the teachers and children there. Just like how Momsboard has been well-loved by many homes, we hope Momsboard will be able to accompany and support the children of Children's Wishing Well in many ways.
Despite the rain, we were so glad that our Jeje House and Jeje Square Momsboards arrived safely at their new home. They told us that they will place Jeje House Momsboard in the counselling room and Jeje Square L at the entrance as a noticeboard. 
We could not wait for them to be well-utilised by their new owners :)
The passionate staff from Children's Wishing Well shared more with us on the meaning behind their vision and mission, and we were really thankful for the unwavering support that the organisation is providing for the children in need. 
Head over to their website at https://www.wishingwell.org.sg/ for more details about Children's Wishing Well and their programmes.
We are sharing the organisation and how we support to you, our TOKI Family, so that mummies and daddies in our community can join us in this mission to help people around us!
We may be unsure on how to and whether our help will directly affect the people in need, especially if it is monetary. Therefore, we want to share that it is not difficult and we can easily find genuine organisations to share our love and support! Every help counts!
All in all, we are sincerely grateful to all mummies and daddies in our community who have supported us thus far, which made this mission possible!! We hope that ToppingsKids and our dearest TOKI Family, will be able to support more children in the coming years!

Happy belated 4th anniversary, ToppingsKids! 🥰